Corporate Chair Massage
Want to increase employee productivity?
Here is a relaxing solution…
[divider type="divider-1″]
PRICING
The fees for chair massage vary depending on a number of factors.
These factors include the type of event, location, and number of therapist needed.
Typically we accommodate 3-5 individuals per hour and per chair.
We recommend requesting at least 2 therapists per event.
Please call us (813) 925-8898 to discuss your specific need and receive custom price quote.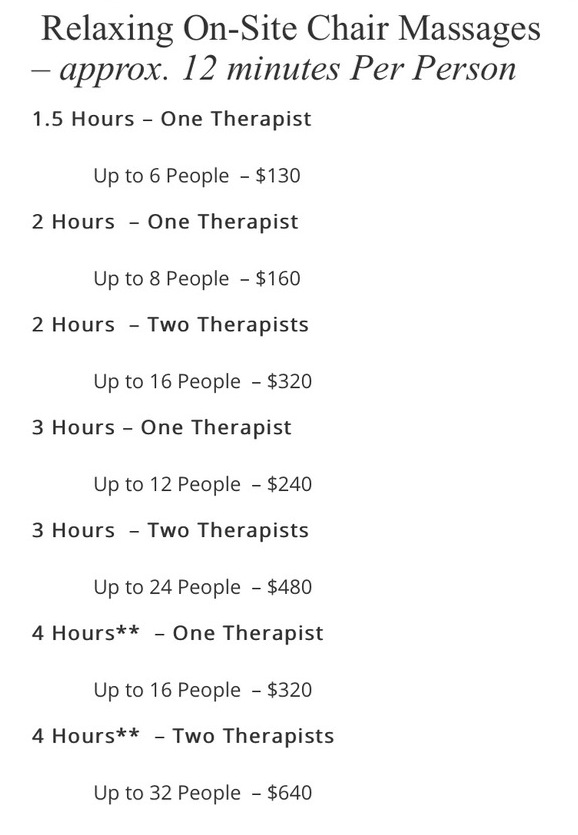 Have a Seat and Feel Rejuvenated
If your employees are struggling to meet quotas, look tired, stressed, or lack energy, then chair massages may be the answer for you.
[divider type="divider-1″]
[colcontainer][span n=3]
AT SPECIAL EVENTS
You can create a positive impact on attendees at your special events in an easy and affordable way with chair massages. You can team up with your favorite restaurant or coffee shop such as Starbucks or The Cork and Olive and hold a party at their venues.
Marketing Events – grand openings and product launches to help celebrate your company or product.
Corporate Events – you can make a lasting impression on attendees at conferences, seminars, promotions, and meetings.
Sporting Events – having massage therapist at golf tournaments, competitions, running, cycling and walking races. pre and post events.
Personal Events – we can massage for any occasion: weddings, graduations, dinners, spa days, birthdays, etc…
[/span][span n=3]
LOCATIONS & SPACE
We are looking for safe, friendly, and professional establishments where there is enough space to provide our service. The area can be a closed room or out in the open depending on the comfort level of the therapist.
Sitting in a specially designed massage chair, clients can enjoy a brief session (typically 10-25 minutes) while remaining fully clothed and without the use of any lotions. For whatever the chair massage environment, it's a simple convenient way to reduce stress, relax, and feel rejuvenated.[/span][span n=3]
SCHEDULING
Depending on the amount of minutes provided for each person as well as how many therapists will be working, we will need a few minutes in between massages to prepare for the next client. Signing up for the time you would like your massage is essential so we can accommodate your schedule accordingly. If you need to cancel your appointment scheduled with Signature Massage & Facial Spa, we ask that you please notify us within 24 hours of the scheduled appointment. Start relaxing today by calling Signature Massage & Facial Spa at
(813) 925-8898.[/span][/colcontainer]